Volleyball
Season: June – July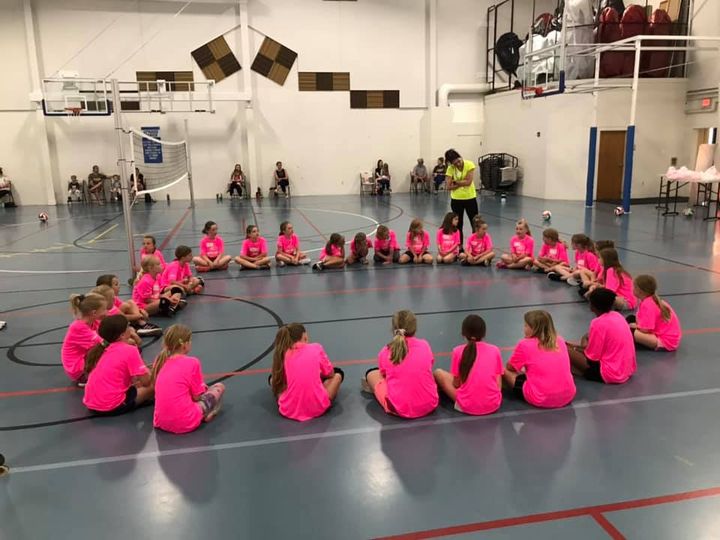 Tuesday & Thursdays
– 1st session (3rd/4th grade) – 5:00 pm – 6:30 pm
– 2nd session (5th-8th grade) – 6:30 pm – 8:00 pm
2 nights a week – no weekends!
All sessions take place at Bethel Church
Registration opens April 5
Season runs June 7 – July 28

Cost is $99 (t-shirt included)
Space is limited to the first 80 participants (Each session is open to only 40 students)
Open to boys and girls entering 3rd grade – 8th grade this fall
The schedule for the season should look like this (subject to change):
– 3rd grade – 4th grade @ 5:00 pm
– 5th grade – 8th grade @ 6:30 pm
Players will be assigned a court based on their ability/experience.
– Beginners on one court learning basic skills
– Experienced on the other court learning more advanced skills.
The first 40 minutes will be spent at various skill stations around the gym. There are group lessons to see skill demonstration (by instructor) then players break into smaller groups to practice skills (overseen by high school players)
The last 40 minutes will be spent scrimmaging on a team based on ability. (devotion in between)
This format allows players to miss a session if they go on vacation. Teams will be made up on the spot with who is there! This format also allows for players of all abilities to participate – beginners and advanced.
Parents are encouraged to stay and watch.
Registration opens two months before the season begins. You should see a link below if registration is still open.